Marion County Farm Bureau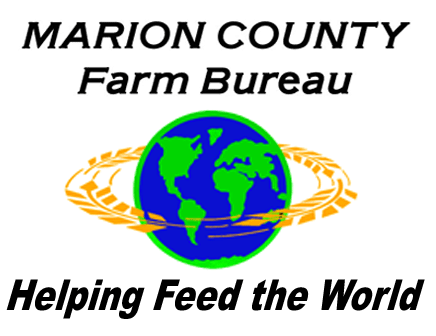 An Agriculture Advocacy Organization
2021-22 Officers and Directors
The Marion County Farm Bureau Board of Directors meet the 4th Monday of every month at 6:30pm at the Association Office in Marion. If you have an issue or concern please let us know and we can put you on an upcoming agenda.

Join us in promoting agriculture awareness and education in Marion County!!
We are currently needing a Women's Chair for our Organization and 3 board members. Please contact us if you are interested in holding a position.
​
​
​
President Glen Prieb
Vice President Jeanie Bartel
Secretary/Treasurer - Vacant
Board Members: James Riffel
Jeremy Davidson
County Coordinator Jayleen Hein
​
Field Services Manager Claire Coleman
​
​
Kansas Farm Bureau 4th District Board Member Steve McCloud
Contact a Board Member
County Goal
To promote Agricultre awarness and education in Marion County.
4th Disctict
Southeast Central
2021 Membership Dues $50.00
780 Members
Membership Dues Breakdown
Where does the money go? The anatomy of a membership breaks down to: $4.00 to AFBF $23.50 to KFB $0.50 to AD&D (Accidental Death and Dismemberment) and the remaining $22.00 stays in the county.